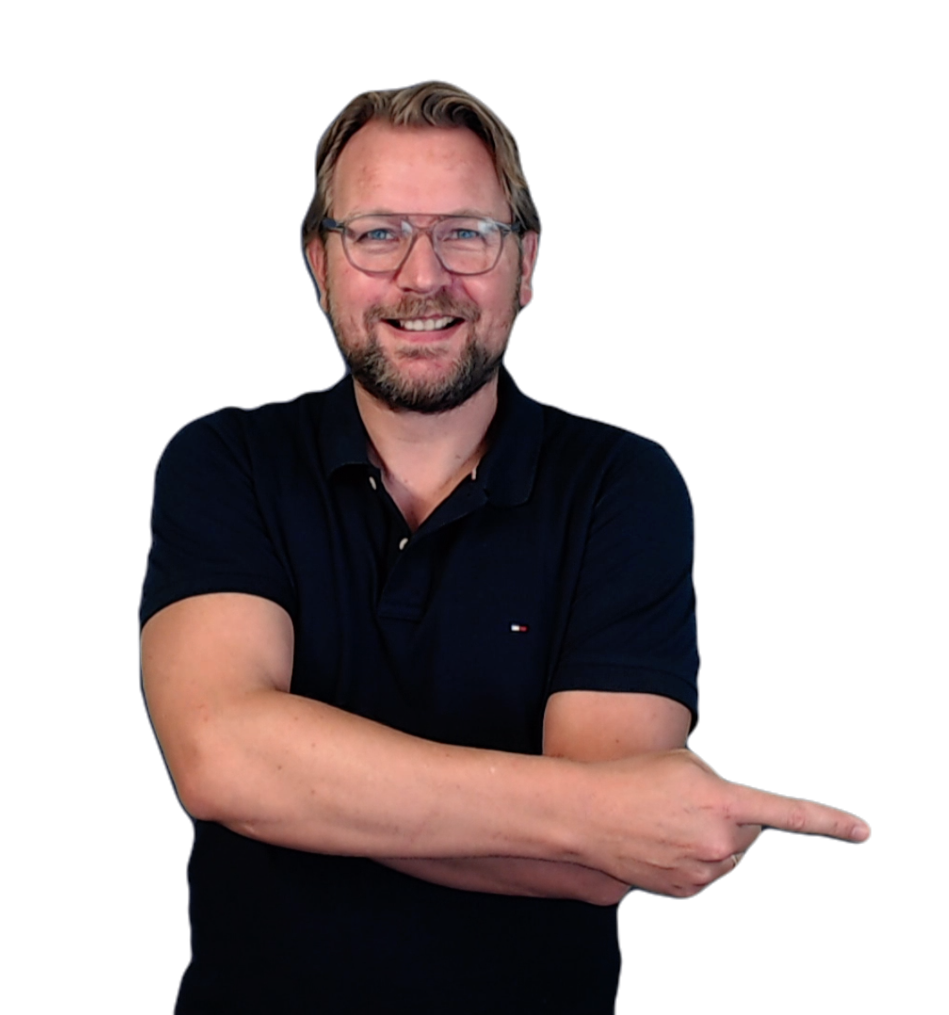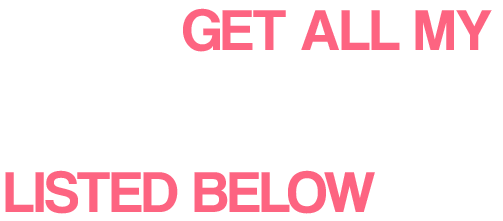 The Quickest & Easiest Way
To Start Online
GrooveFunnels is a complete suite of marketing tools designed to help you build sales funnels and websites (i.e., landing pages) and for selling products online.
For a limited time we giveaway FREE access for life to:
GroovePages (website builder + hosting)
GrooveSell (sell your digital products)
GrooveAffiliate (track and reward your affiliates)
Additionally you can choose to upgrade to the full suite of 17 extra tools for a one-time investment.
What you need to know about GrooveFunnels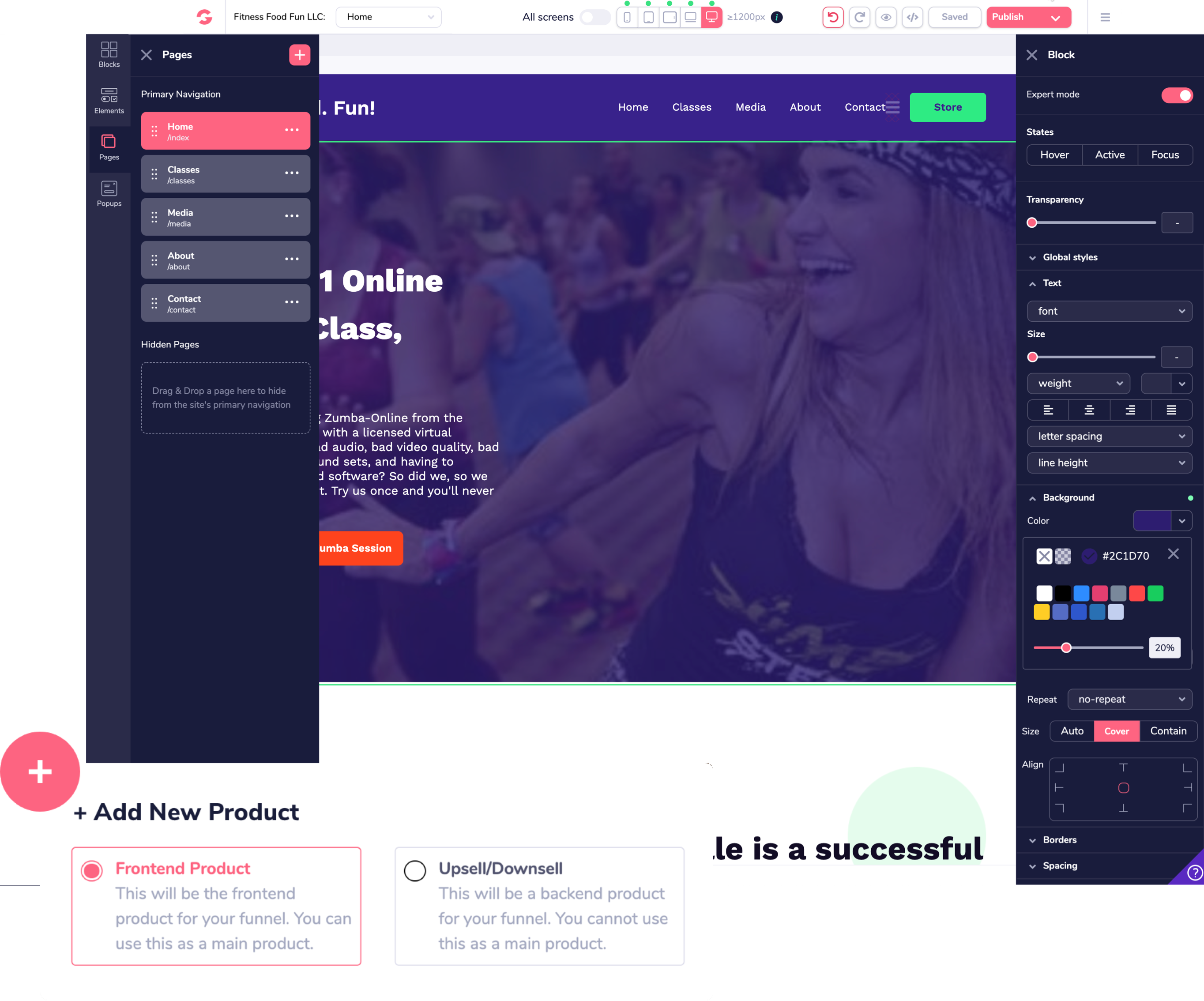 Watch my full GrooveFunnels review here
An important thing to know is that GrooveFunnels is currently in beta which means it's not bug free. With your feedback the platform will be improved and your patience will be rewarded greatly once it's out of beta.
Become a backer
Joining GrooveFunnels is 100% Free, but you also have the option to become a backer after you have created your free account.
By becoming a backer, you'll get access to 17 additional apps that are being developed. You can become a backer by investing a fraction of the cost you would normally pay for all platforms together. The investment is a one-time payment which gives you lifetime access to all these 17 applications.
Once GrooveFunnels is out of beta you can cancel all you current monthly subscriptions you normally pay for to handle your Funnels, Sales, Affiliate Management, Email Marketing, Membership Site, and Video Marketing.
Pricing GrooveFunnels LifeTime
GrooveFunnels Lite
– FREE
GrooveFunnels Premium (+ 17 additional software apps)
Option 1- One payment of $1397
Option 2 – $0 Today, then just 3 easy monthly payments of $497 starting in 14 days.
Option 3 – 6 easy monthly payments of $288 starting today.
Option 4 – 12 easy monthly payments of $188 starting today.
Full overview can be found at the bottom of this page.
Signup for a free GrooveFunnels account through my link and receive the following bonuses.
(Make sure the referral on the checkout form is tverdouw)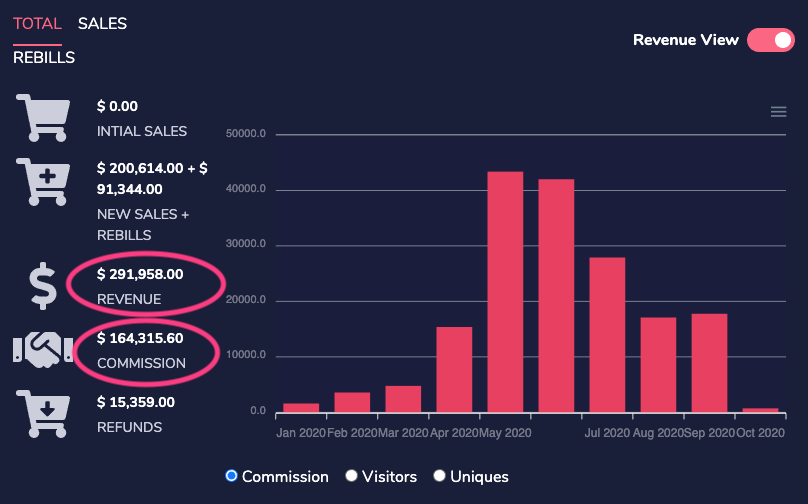 Affiliate training: How I've generated over $300K in sales for GrooveFunnels
Personally I have made over $300,000 in sales for GrooveFunnels. This makes me one of the top affiliates for this company.
In this personal training, I am going to show you the exact strategies that I have applied to archive these results.
I'll teach you the free methods that I've used to make tens of thousands of dollars with GrooveFunnels, but I'll also show you step by step the paid strategies that I've used that have generated multiple six figures.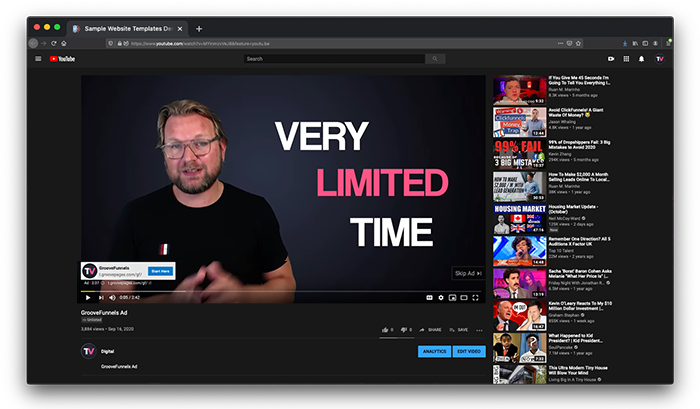 Creating professional Youtube ads is time consuming! Safe yourself time and headache with my done for you video Ad. With this bonus I'll give you the rights to use my professional ad for your own paid promotions. 
You'll get the rights to download and use it on your own Youtube channels.
 The perfect ad to boost your sales!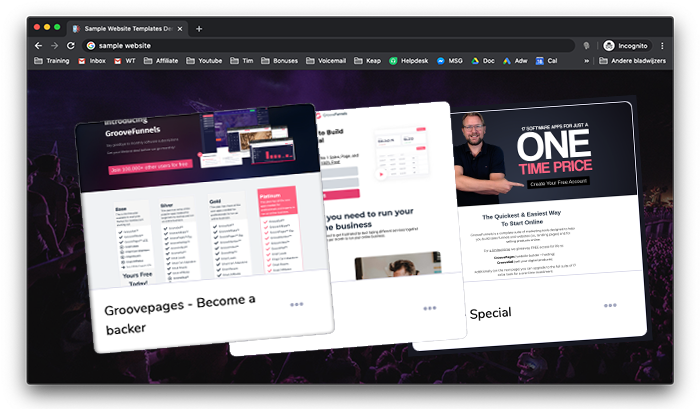 Driving traffic straight to an affiliate link is never a good idea. Both Google and Facebook will ban your account for doing so.
With this bonus I'll give you my done for you funnels that you can import into your GrooveFunnels account.
It's the perfect landing and followup pages that I've personally used to generate multiple six figures.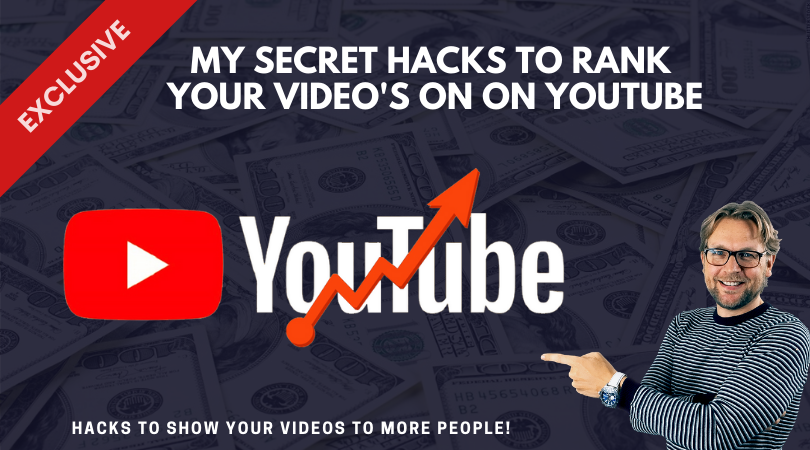 How To Rank Your Video's On Youtube
Ranking on Youtube is essential to get results online. In this training I'll show you my secret hacks that will help you to rank your videos to the top of Youtube.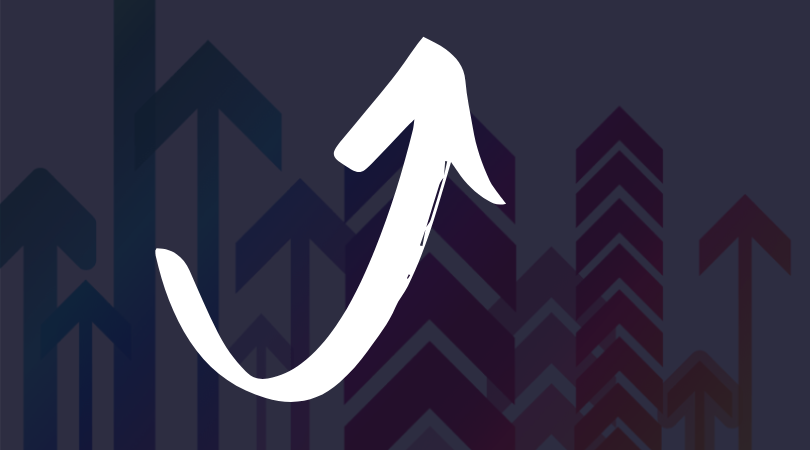 Use bonus 1-4 for your own promotion
Want to make more GrooveFunnels sales yourself? By adding bonuses, you can easily triple the amount of sales.
This bonus allows you to use my bonus 1-3 as your own bonuses.
By providing your downline this high quality training you will not only make more sales, but you are also equipping your downline to start making sales faster which means more commissions for you!
Upgrade to platinum and also get the following Bonuses
Signup for a premium GrooveFunnels account through my link and receive the following bonuses.
(Make sure the referral on the checkout form is tverdouw)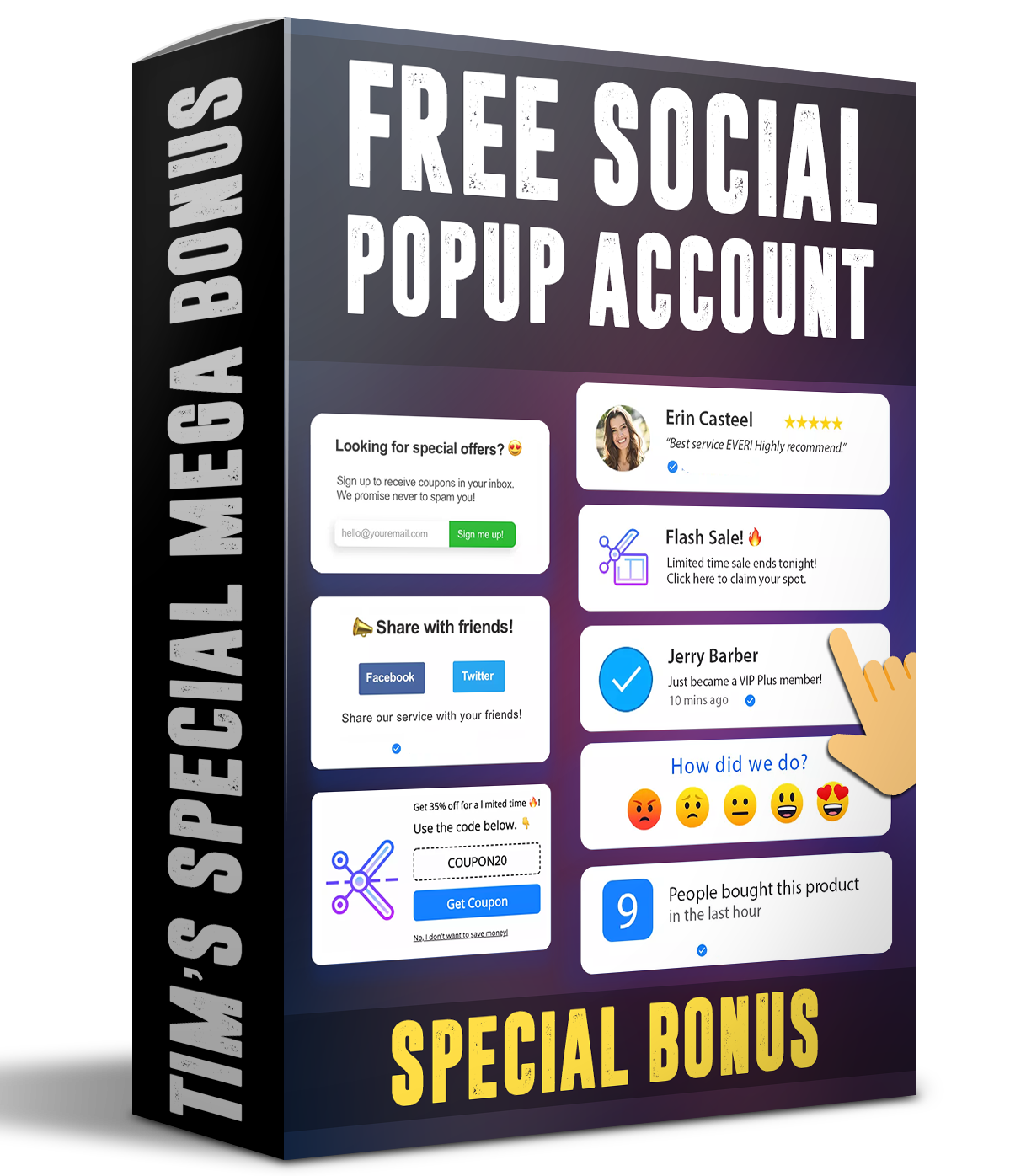 A Free $197 Social popup account
Boost Conversions By Over 250% By Adding One Line of Code and Social Proof To Any Site.
With this exclusive bonus, you'll get access to my SocialPopup cloud platform where you can create unlimited conversion triggers for all your GroovePages websites Funnels!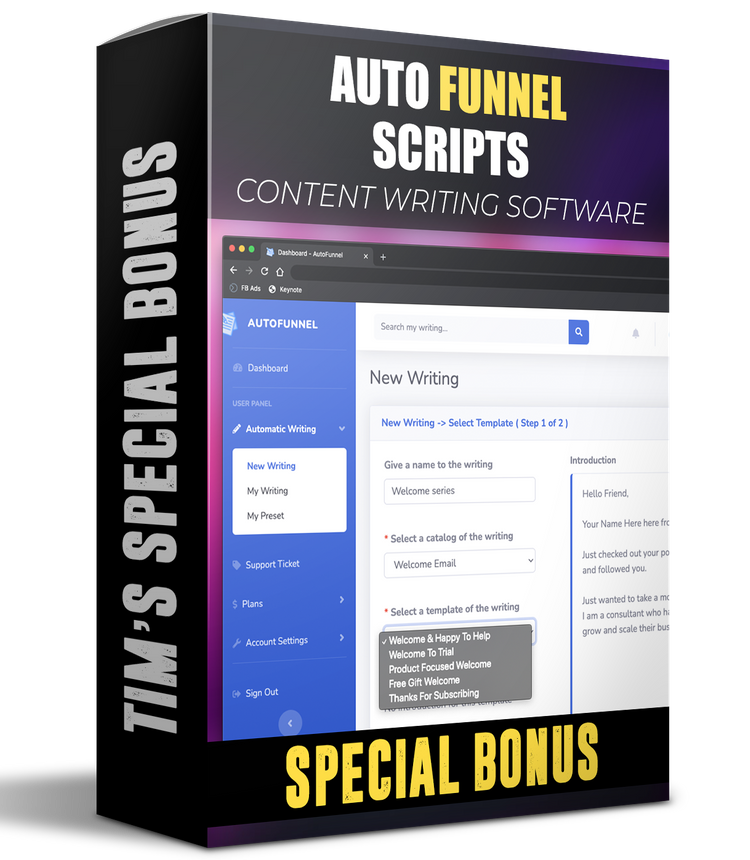 AutoFunnelScripts is my newest all in 1 platform for ready to go custom copywriting materials.
Are you TIRED of not getting enough sales through your video advertising?
Chances are,  It's not your product that's the issue. The ISSUE could be
your Copywriting ( Emails, Sales Letters,  Headlines etc)
Answer simple questions to help AutoFunnelScript customize the writing for you & your business.
That's It.  Your copy Is ready!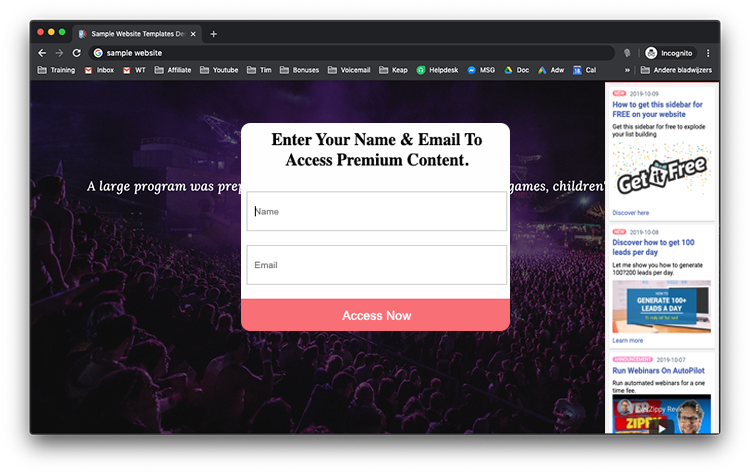 Get a Free $97 SideLeads Account
SideLeads allows you to add a special content widget to your website to capture more leads by offering premium content in exchange for an email address. 
With SideLeads you are able to offer both free and premium content.
A great way to build your list from website visitors.  
Get a Free $129 SmartLinks Account
Create Links Like A Badass
Single/Multiple Links

Passwords Locks

Expiration Dates

Pixel Tracking
Overlays
Splash Screen
Location Targeting
Device Targetting
Replace Destination URL
Powerful Analytics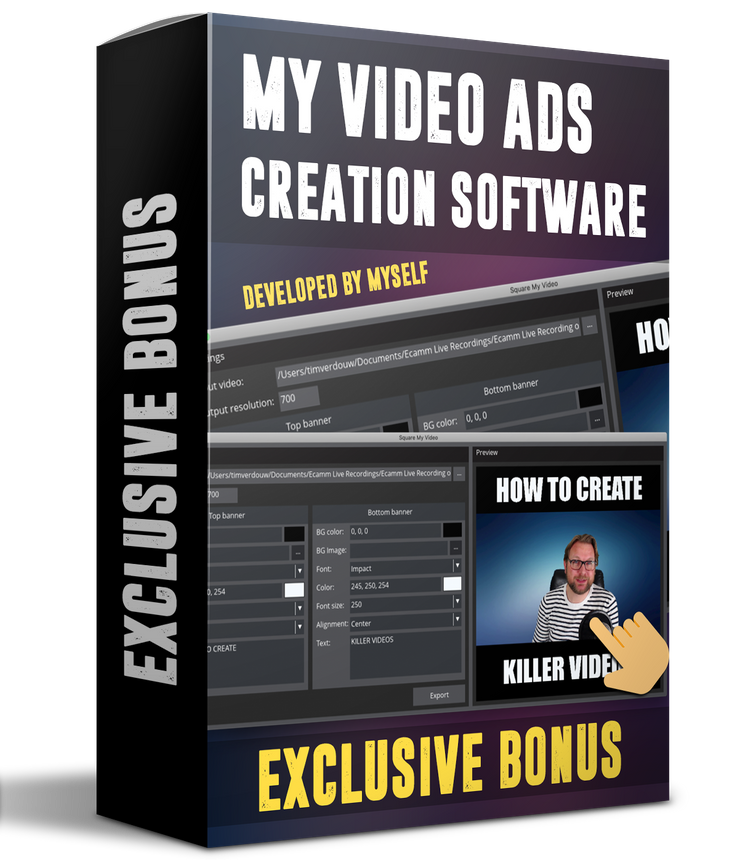 My Video Ads Creation Software
Square videos will give you instant eyeballs to your videos and outperform landscape video in views and engagement.
With this software (Mac + PC) you can transform regular videos into ads in only a few simple steps.
Simply select your video, add your description or background images and you're done!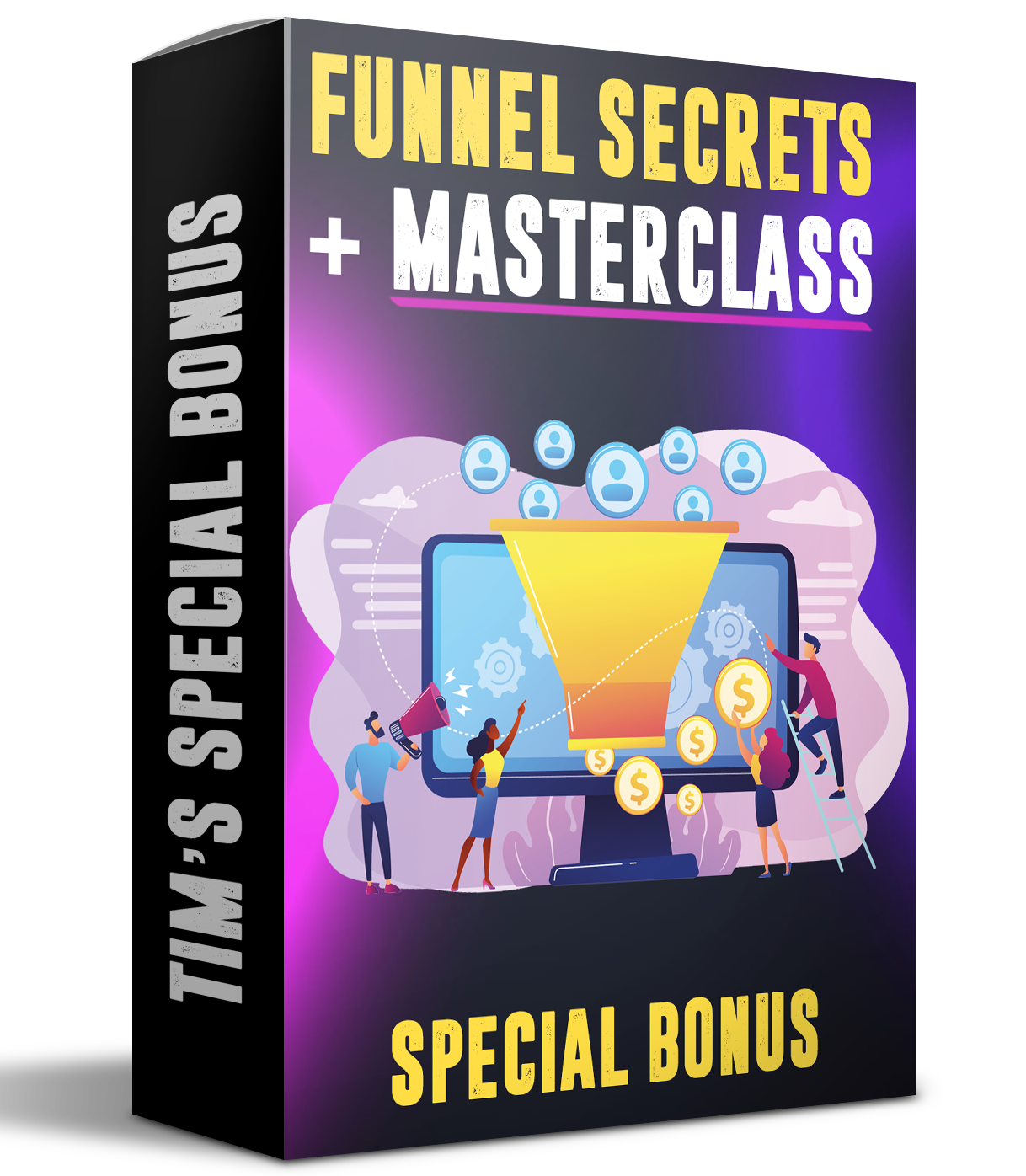 You're going to be shown step by step how you can add Sales Funnels into your business to profit up to 3X more. Spend over 3 hours across over 30 training videos with 7 figure marketer Sam Bakker.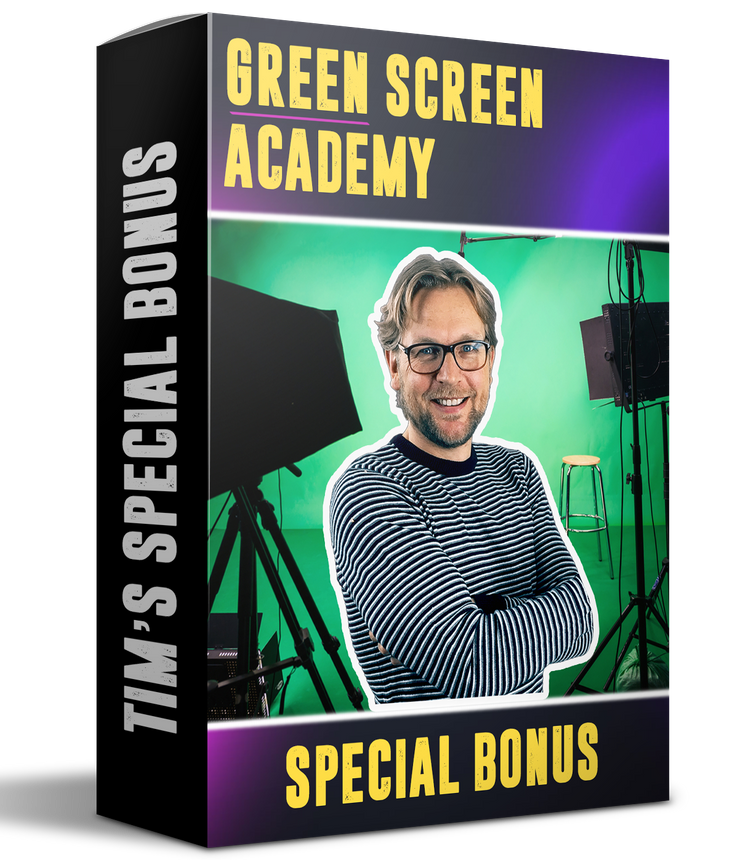 Create stunning videos through Green Screen videos.
Almost weekly I get this question: "How do you make these cool product review videos Tim?"
Well… In this training I'll show you exactly how to filter your screen,
replace your backgrounds and how to make stunning videos that will attract a lot of eyeballs.
I'll show you free software that you can use and go step by step into detail how you can master this skill yourself.
Get access to my member area where I show you how to add a free chat service to all your GrooveFunnels websites, how to create a professional website with GrooveFunnels + template, How to connect your domain to GroovePages, How to create tracking links
And much More..
Base
This is the free plan available to everyone. Perfect for newbies just starting out.
Only Affiliate Program 20%
Silver
This plan has some of the popular apps needed for beginners to startup and run an online business.
Gold
This plan has most of the core apps needed for professionals to run an online business.
Platinum
This plan has all the core apps needed for professionals and experts to run an online business.
GrooveWebinars™ Automated

GrooveWebinars™ LiveStreaming
How To Get my GrooveFunnels bonuses?
After you have created your free account, the bonuses will be delivered automatically to you through GrooveFunnels.
In order to receive my Platinum bonuses, you need to upgrade to the Platinum plan first.
You can upgrade to the platinum plan by creating a free account first. Make sure when you register your free account, that you see 'tverdouw' as the referral.
Once you have created your free account you will be offered a one-time offer to upgrade your account to platinum. You can also create a free account first and upgrade later, BUT make sure you are using the same email address you've registered with.
Once you have upgraded your account send your purchase receipt to support@timverdouw.freshdesk(dot)com and I'll make sure your bonus software accounts will be created for you.
If you have any questions regarding GrooveFunnels, don't hesitate to contact me through the chat widget on this site.
Looking forward to see you as a new Groove member!
Affiliate Disclaimer: While I receive affiliate compensation for reviews / promotions on this page, I always offer honest opinion, relevant experiences and genuine views related to the product or service itself. My goal is to help you make the best purchasing decisions, however, the views and opinions expressed are mine only. As always you should do your own due diligence to verify any claims, results, and statistics before making any kind of purchase. Clicking links or purchasing products recommended on this page may generate income for my website from affiliate commissions and you should assume I am compensated for any purchases you make.